I was the lead in a Marine Day Conference for teachers today, which took place on the Shoreham Beach Local Nature Reserve to inspire teachers about our amazing coast and how they can implement marine studies into the school curriculum.
The conference was attended by teachers from 19 local schools and was based on two sites, Adur Outdoor Activity Centre for the inside sessions and Shoreham Beach LNR for the beach workshops.
Armed with ID guides the teachers searched for clues as to how these plants not only survive in this inhospitable environment but actually thrive. The teachers also explored the vegetation looking for invertebrates, birds and lizards that also visit the shingle habitat.

The delegates explored the tide pools and discovered a variety of marine creatures from crabs and shrimps to cockles and sea anemones.
A workshop also examined the pebbles and the dynamic coastal processes that formed and continue to shape Shoreham Beach. At the same time the teachers collected strandline objects which they examined back in the centre including crab shells, cuttlefish bone, ray egg cases, whelk eggs and even cuttlefish eggs.
They discovered how these objects and even the beach pebbles have a fascinating story to tell.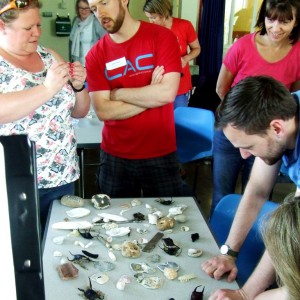 Not all local schools can actually visit the beach so the afternoon workshops also demonstrated the use of simple USB equipment used in our programme, demonstrating live marine creatures in schools using USB microscope devices. This session also looked at marine myths and folklore and marine conservation issues.
The conference was run in partnership with South East Grid for Learning Associates and supported by Friends of Shoreham Beach, who kindly sponsored the room hire. The event was a great success; the feedback from the South East Grid for Learning Associates evaluation forms all listed the quality and usefulness of the sessions and support materials as either good or outstanding. It is hoped that the conference will become an annual event.